After having my closet organized a few months ago I couldn't help but want everything possible in my house organized. I know Brandi from Minimal is Bliss was excited about the thought of my pantry after finishing my closet so we chatted about the pantry project.
Over the last few months of watching BD Provisions build there store front in Fairfield I knew I'd be there all the time (I've been to there store in Newtown and loved it). After talking with one of the owners; Tara about the Fairfield rule that we would be able to bring in our own containers (different rules in each town) I got excited about the thought of making all my containers match.
After we started the project I came in contact with Eunice from Everything Labeled and thought it would look even better if everything was labeled!
Here is how it was all done:
Jessica and I had discussed organizing her 
pantry
 before, but with the new BD Provisions opening downtown she (and I!!) were excited to get her cabinets ready for some zero waste shopping. First, this meant picking out some large, wide-mouth mason jars. I ordered a case from
Amazon
to add to the existing glass containers she had.
The next step was to make room for those new jars! By condensing boxed and bagged items into acrylic bins and containers which could be labeled by category, I was able to free up more space. Apple sauce, pouches, protein bars and other grab-and-go items are much easier to find, without having to dig through boxes. We also discussed moving some rarely-used wine glasses (extras for entertaining) out of the "prime real estate" storage area in her kitchen so we could use that space for more food storage. I also added a two-tiered lazy Susan to a shelf for her oils and condiments.
Jessica was able to take some suggestions and ideas and did a great job purging and reorganizing her canned goods and cereals!
I loved being able to contribute to this pantry makeover collaboration! My part was small, but I hope the new storage system in Jessica's pantry cabinets functions well for her. Often small changes can make a big impact!
Less is more.
BD Provisions
was started on the idea that many people are looking for solutions to cut back waste in their everyday lives.  We knew that zero waste shops are a simple way to get amazing foods without all of the packaging and are gaining popularity but stores that are 100% zero waste can be intimidating to the large majority of consumers.  We set out to create a store that's all about being inclusive and helping all people live more sustainable lives.  We like to say we elevated the food shopping experience by providing a foodie-paradise that merges amazing foods with zero waste packaging and affordable prices.
Tara DiPippa is one of the Co-Founders of BD Provisions and a local Westport mom.  She and her partners created a store with hundreds of delicious foods sold in bulk so consumers can take as much or as little as they want and the best part it, you can bring your own containers!  BD Provisions offers a carefully curated collection of more than 300 items in bulk and includes nuts, candies, grains, baking ingredients, gluten free products, spices, beans, loose-leaf teas, and much more – all sold by weight. The store also features a wide range of artisanal olive oils, vinegars, local honeys and maple syrups on tap, chocolates, nut grinding machines that grind the freshest nut butters in seconds and a state of the art coffee roaster which roasts coffee beans before your eyes for beans so fresh, you can take them home still warm.
Their mission is to "nourish the environment and the community one scoop at a time" and they couldn't be more excited to start getting involved in the Fairfield and surrounding town communities.
Everything Labeled was started in September of this year because Eunice wanted to do something creative in addition her finance day job.  I love when things are neat and tidy but love it even more when something is labeled.  I noticed how happy it made me when I put a simple label on my travel coffee mug. My kids loved how their water bottles were more unique with their name on it in their favorite color.  I then started looking around my house and started labeling everything.  Hence the company name.  It turned an ordinary item into something different and special. It felt complete.
I redid my pantry and there is now no excuse to not know where everything goes. It looks so polished. The finished product looks great and can be tailored for each clients needs and space.  No two are the same.
I was so excited to work with Minimal is Bliss and BD Provisions in creating the prettiest pantry in town.  A simple mason jar filled with walnuts bought in bulk from BD Provisions with a white label on it looks amazing on a shelf.  The process to do that pantry with about 50 custom labels wasn't painful at all and rather quick with installation.
I created a starter pantry pack of labels in 2 different fonts that can be used with most containers and easy to apply at home.  I picked the 10 most used categories, flour, sugar, pasta, etc.  These are currently being sold at BD Provisions.  If you need more or different ones, or sizes I would be excited to come up with a custom plan for you. In addition to pantry labels, I do water bottles labels, essential oil roller ball bottles, custom gifts, and anything you need a label with.
Looking forward to labeling anything and everything you need!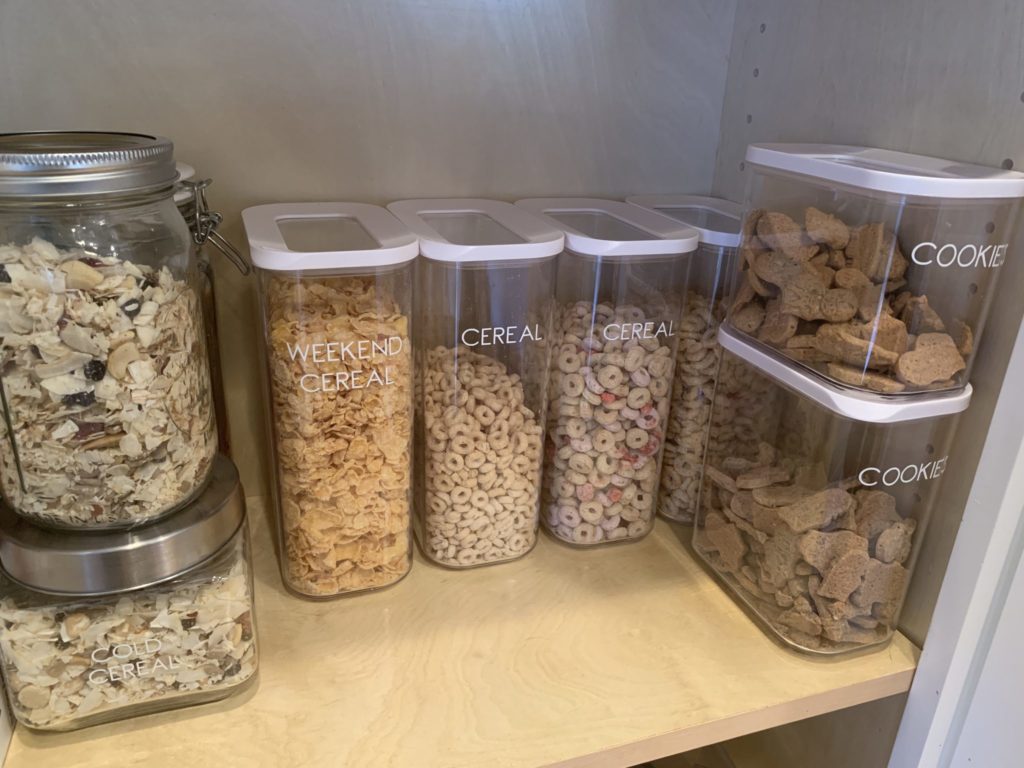 This wasn't a long process but such a fun one. Our goal is to have all pantries in Fairfield to look this clean and doesn't break the bank!