So many of us went Strawberry picking in the last few weeks and with an over abundance of strawberries wondering what to make! Here are a few Strawberry recipes to help! We washed all ours right away and froze some, gave away some and have been slowly eating the rest! We cleaned them with Thieves Veggie Cleaner which helps make the strawberries and all fruit last extra long, no joke it works! Enjoy!
Strawberry Breakfast Bars
Ingredients
 

1

 

cup

 

old-fashioned rolled oats

 

3/4

 

cup

 white whole wheat flour — or substitute all-purpose flour or 1:1 baking flour to make gluten free
 

1/3

 

cup

 

light brown sugar

 

1/4

 

teaspoon

 

ground ginger

 

1/4

 

teaspoon

 

kosher salt

 

6

 

tablespoons

 

unsalted butter

 

— melted (or substitute melted coconut oil to make vegan/dairy free)

 

2

 

cups

 

small-diced strawberries

 

— about 10 ounces, divided

 

1

 

teaspoon

 

cornstarch

 

1

 

tablespoon 

 

freshly squeezed lemon juice

 

— from about 1/2 small lemon

 

1

 

tablespoon

 

granulated sugar

 

— divided
FOR THE VANILLA GLAZE (OPTIONAL BUT DELICIOUS, ESPECIALLY IF YOU PREFER A SWEETER BAR):
 

1/2

 

cup

 

powdered sugar

 

— sifted

 

1/2

 

teaspoon

 

pure vanilla extract

 

1

 

tablespoon

 

milk

 

— any kind you like
Instructions
Place a rack in the center of your oven and preheat to 375 degrees F. Line an 8×8-inch baking pan with parchment paper so that the paper overhangs two sides like handles.

In a medium bowl, combine the oats, flour, brown sugar, ginger, and salt. Pour in the melted butter and stir until it forms clumps and the dry ingredients are evenly moistened. Set aside 1/2 cup of the crumble mixture, then press the rest into an even layer in the bottom of the prepared pan.

Scatter half of the strawberries over the crust. Sprinkle the cornstarch evenly over the top, then sprinkle on the lemon juice and 1/2 tablespoon of the granulated sugar. Scatter on the remaining berries, then the remaining 1/2 tablespoon sugar. Sprinkle the reserved crumbs evenly over the top. You will have some fruit showing through.

Bake the bars for 35 to 40 minutes, until the fruit is bubbly and the crumb topping smells toasty and looks golden. Place the pan on a wire rack to cool completely (you can speed this process along in the refrigerator).

While the bars cool, prepare the glaze: In a medium bowl, briskly whisk together the powdered sugar, vanilla, and milk until smooth. Feel free to add more milk if a thinner consistency is desired. Using the parchment-paper handles, lift the bars from the pan. Drizzle with glaze, slice, and serve.
Recipe Notes
The recipe can be doubled and baked in a 9×13-inch baking pan. The bars will be a bit thicker but will still be delicious. To make them gluten free, substitute the white whole wheat flour with a 1:1 baking mix.
Store leftovers in the refrigerator for up to 5 days.
To freeze, let the bars cool completely and do not glaze. Wrap tightly in plastic before placing in the freezer. Let thaw in the refrigerator and top with glaze before serving. (Bars can be frozen already glazed if needed.)
If you want to use frozen strawberries, let them thaw completely and pat them dry before making the recipe.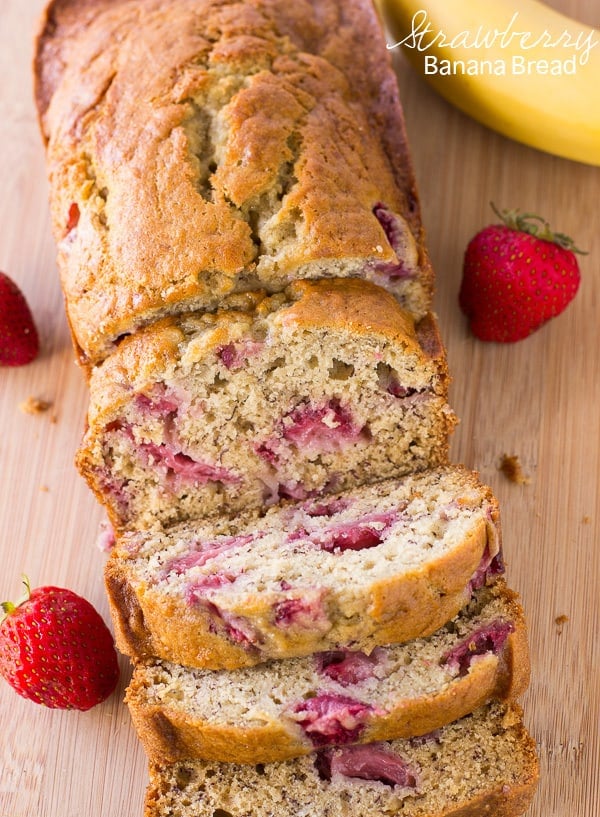 Ingredients
1/2

 

cup

 

butter

 

(1 Stick) softened

1

 

cup

 

granulated sugar

2

 

large

 

eggs

 

beaten

3

 

ripe bananas

 

mashed

2

 

cups

 

flour

1

 

teaspoon

 

baking soda

1/2

 

teaspoon

 

salt

1 1/2

 

cups

 

fresh strawberries 

chopped & tossed in 1 Tablespoon of flour
Instructions
Preheat oven to 375F degrees. Spray two 9×5 loaf pan with nonstick spray. Set aside.

In a large bowl, using a KitchenAid Stand Mixer with paddle attachment cream butter and sugar together until light and fluffy.

In a small bowl, beat eggs using a fork. Add eggs to sugar mixture and beat until combined. Add mashed bananas and mix until combined.

Sift all dry ingredients: flour, baking soda, and salt. Slowly add sifted dry ingredients to banana mixture and mix until flour is just combined. DO NOT OVER MIX! Fold in floured covered strawberries.

Pour batter into prepared loaf pans and bake at 375*F for 15 minutes. REDUCE heat to 350*F and bake for an additional 30 minutes until edges are slightly brown or until toothpick inserted into center comes out clean. Let cool completely before removing from loaf pans.
 Strawberry Salad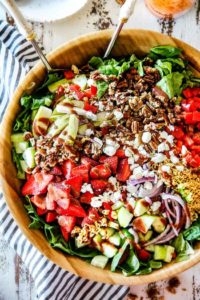 Ingredients
1

Cup of Caramelized Pecans

1

 

small head romaine lettuce

 

chopped

1

 

lb.

 

strawberries

 

hulled and sliced

5

 

oz. bag

 

spinach

1

 

pear

 

thinly sliced and halved or chopped

1

 

cucumber

 

chopped

red bell pepper

 

chopped

1/4

 

large red onion

 

thinly sliced

1

 

package

 

ramen noodles

 

crushed, flavor packet discarded

1/3

 

cup

 

roasted salted sunflower seeds

4

 

oz

 

goat cheese crumbles

1

 

tablespoon

 

olive oil
Strawberry Balsamic Vinaigrette
Add all of the Vinaigrette ingredients to blender except olive oil and process until smooth. Turn blender on low, and gradually add olive oil in a slow, steady stream. Whisk in poppy seeds. Add additional balsamic for tangier, sugar for sweeter (will depend on your balsamic).

Vinaigrette is best served chilled. If making and serving salad immediately, place in the freezer so it can get cold, otherwise

 refrigerate until ready to use. Whisk vinaigrette just before serving.
Preheat the oven to 400 degrees F. Meanwhile, prepare Caramelized Pecans according to directions. Set aside.

Add ramen noodles to a baking sheet and toss with 1 tablespoon olive oil. Spread in an even layer and bake until toasted, stirring 1-2 times, approximately 10 minutes.

Serving Immediately: Add all of the salad ingredients to a large bowl. If not expecting leftovers then toss with desired amount of dressing. If expecting leftovers, dress individual portions. Serve immediately.

Making Ahead: Add all of the salad ingredients EXCEPT pears (they will brown) to a large bowl in sections so they stay somewhat separated – do not toss together. Cover tightly with plastic wrap. When ready to serve, add pears. If not expecting leftovers then toss with desired amount of dressing. If expecting leftovers, dress individual portions. Serve immediately.

Strawberry Frozen Yogurt
INGREDIENTS
3 c.
plain 2-percent reduced fat Greek-style yogurt
1 1/2 tsp.
vanilla extract
1 c. finely chopped rhubarb
Whisk together yogurt, half-and-half, 2/3 cup sugar, corn syrup, vanilla and salt; let stand 5 minutes. Whisk until sugar dissolves. Chill 2 hours or until very cold.
Meanwhile, cook fresh strawberries, rhubarb, and 1/3 cup sugar over medium heat 6 to 8 minutes or until fruit is softened and begins to break down; cool completely. Swirl strawberry mixture into prepared yogurt.
Pour mixture into bowl of an electric ice-cream maker, and process according to manufacturer's instructions. Freeze 1 hour before serving. Store up to 1 week.