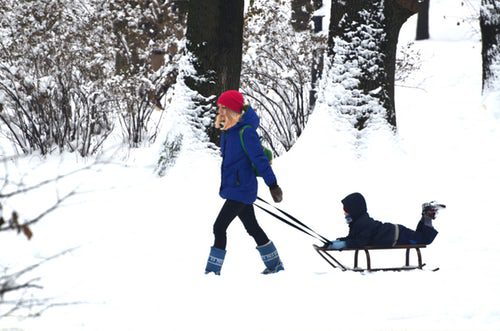 Chances of snow happening in New England this week or in the next few weeks is possible, so instead of staying inside with kids, venture out (safely) to the best spots in town to go sledding!!  Please be sure to continue to practice social distancing and wear a mask if needed!  Happy Sledding!
Grab your snowgear & sleds!
Fairfield University – Corner of Round Hill Road and Barlow Road
Great for big kids / adults – watch out of the goal posts!
Fairfield University – North Benson Road (Rugby Field)
Great for kids all ages!
Fairfield Wheeler Golf Course – 2390 Easton Turnpike, Fairfield
Gould Manor – 655 Holland Hill Road
Helen Keller Middle School – 360 Sport Hill Road, Easton
Mill Hill Elementary – 635 Mill Hill Terrace, Southport
Osborn Hill Elementary – 760 Stillson Road
Great for little kids – smaller hill!
Smith Richardson Golf Course – 2425 Morehouse Hwy (near Kieran's Place)
Sturges Park – 550 Mill Plain Road (behind Highschool)
Tunxis Hill Park – 225 Melville Ave
Skating Ponds
Fairfield does not have any indoor rinks but there are two ponds in Town that are skate able when the weather turns cold. The Fairfield Parks Department measures the thickness of the ice daily when the temperature dips and will post when it is safe to skate at the following locations.
Gould Manor Park – 655 Holland Hill Road
Owen Fish Park – 1443 Stratfield Road