Thanks to Fairfield local Dana Angelo White, nutrition expert and F45 Brand Ambassador she has shared a few recipes with us to feed the soul and have the kids help to keep them busy! Both are simple since we should have most ingredients in your pantry! Follow her @dana_angelo_white or her website Dana White Nutrition!
Gluten Free: Flourless Peanut Butter Chip Cookies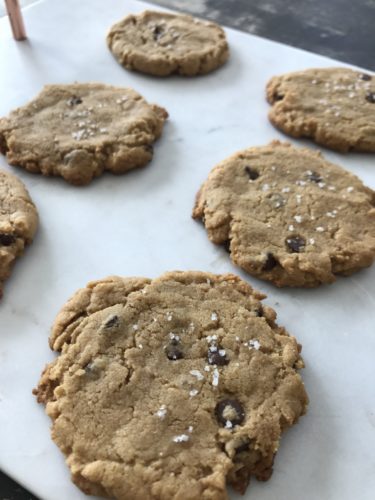 A must try recipe for a gluten free treat. Any peanut butter lover will fall for these flourless cookies.
Makes 24 cookies
1 cup smooth peanut butter
3/4 cup light brown sugar
1 large egg, beaten
1 teaspoon baking soda
1 teaspoon vanilla extract
1/2 cup mini chocolate chips
Coarse sea salt
Preheat oven to 350F. Line a sheet pan with parchment paper and set aside. In a bowl, combine peanut butter and brown sugar – stir well. Add egg, baking soda, and vanilla; stir until all ingredients are well mixed, then gently mix in the mini chocolate chips.
Using a small ice cream scoop, place 8 cookies onto the sheet pan (give them some room as they will spread out). Gently press to flatten each cookie slightly. Bake for 6 to 8 minutes until puffed and spread out. Remove from oven and then sprinkle lightly with sea salt. Once completely cooled, store in an airtight container.
Nutrition Info Per Cookie: Calories: 111; Total Fat: 7g; Carbohydrates: 11g; Protein: 3g

Higher Protein Greek Yogurt Bagels (Regular and Gluten Free)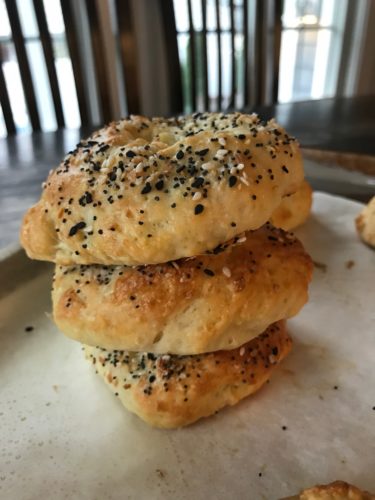 Inspired by Skinnytaste and my beloved QU co-worker Jen Mead, I've been spending lots of time tweaking this fun bagel recipe to my liking – a gluten free version included! They are perfect for breakfast, sandwiches and along with soup and chili –dipping encouraged!
Makes 8 bagels
2 cups all purpose flour or GF baking mix (Bob's Red Mill recommended)
4 tsp baking powder
1 tsp kosher salt
2 cups 2% plain Greek yogurt
1 egg beaten
Everything Bagel Seasoning or Pretzel Salt (optional)
Preheat oven to 400F. Line a baking sheet with parchment paper. In a large bowl whisk flour, baking powder and salt. Add yogurt and stir with a spatula until a loose dough begins to form. Turn dough out onto a lightly floured surface. Gently knead the dough until it comes together. Divide dough into half, fourths and then into eight evenly sizes pieces. Roll each piece of dough into a ball and gently press to flatten. Cut a whole in the center using small ring mold or butter knife (or just press through with your fingers).
Place bagels on the prepared baking sheet, brush with egg wash and sprinkle with seasoning, if using. Bake for 22-26 minutes, until puffed and golden brown. Transfer to a wire rack to cool slightly before serving. Slice, toast and top as desired. Store for up to 3 days at room temperature (5 days in the fridge) or in the freezer for up to 3 months.
Nutrition Info Per Serving
(Regular) Calories: 157; total fat: 2 (sat 1g); sodium: 408mg; carbs: 27g, fiber: 1g; sugar: 2g; protein: 8g
(Gluten Free) Calories: 173; total fat: 1 (sat 1g); sodium: 417mg; carbs: 33g, fiber: 1g, sugar: 3g; protein: 7g