Have you ever been to an indoor water park? Never did I think you'd get me to one, but then you have kids and will do whatever they want and see on tv but then love it!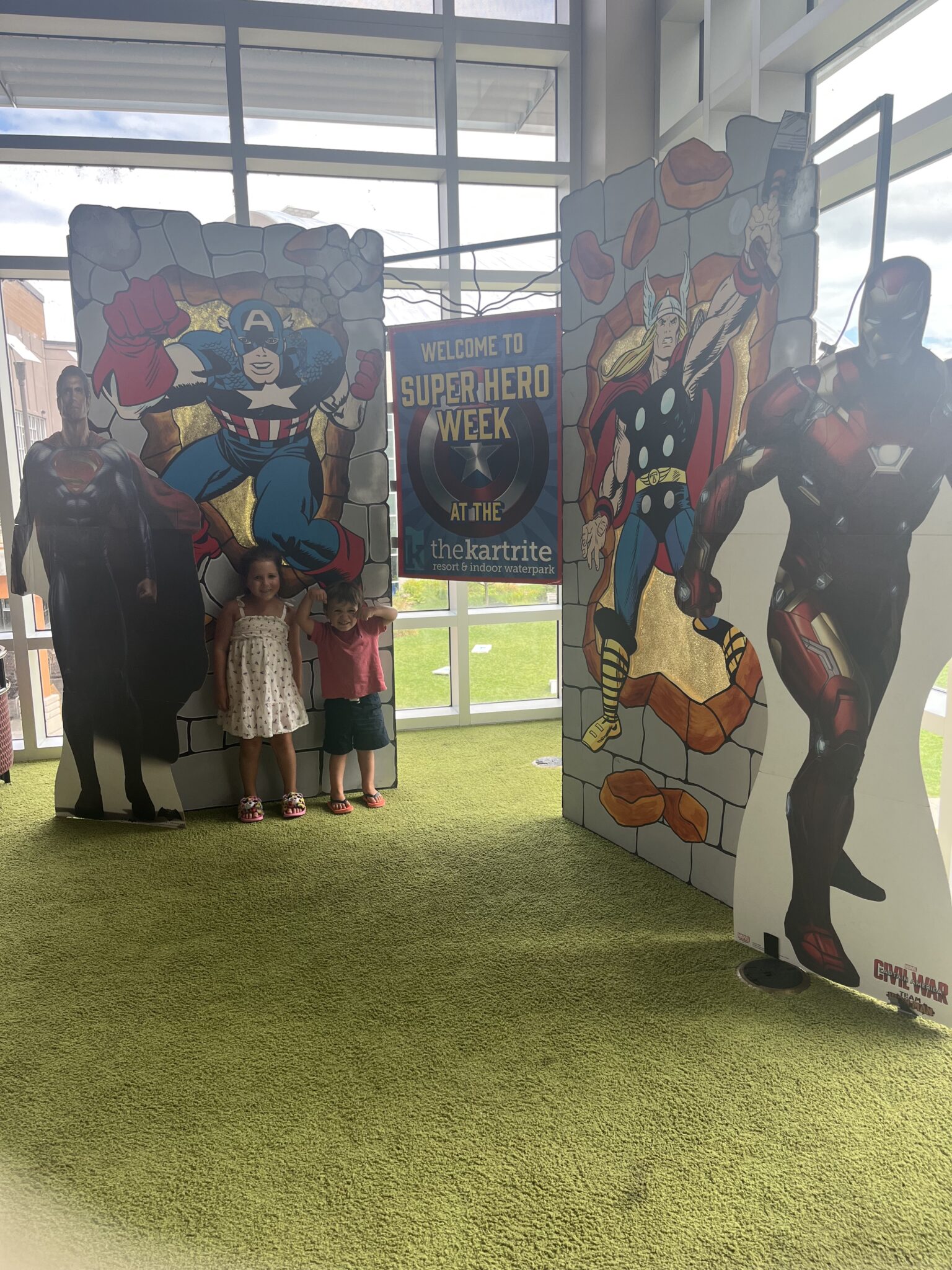 We spent a night at Katrite in Monticello, NY last weekend to celebrate the end of summer and it was the perfect and quick getaway! It was 2 hrs from Fairfield and is a full resort with an indoor water park, great outdoor area and so much for kids to do! Easy ride for kids to nap and be ready to go is always helpful. We came in to "Super Hero Week" and they were able to get capes and superhero masks, everyone was so nice and helpful!
We walked around while waiting for our room and there was a superhero mask decorating area and an obstacle course so we did that and our room was ready pretty quick!  The rooms were perfect with 2 sets of bunk beds which are always fun!
We quickly changed and headed to the waterpark for a quick lunch and enjoy the waterpark. There is a little kid area and my daughter 6 and a half was fine going in them with my almost 3 year old. They had little slides which was so fun to see him go down and figure out. My daughter older and braver was all over the big kid slides which you bring your tube up the stairs to. The lazy river was fun and we ended with the indoor/outdoor pool which was so warm!
When going back to the rooms you pass the candy shop, 3 restaurants and 2 arcades! We made reservations for dinner, relaxed and showered and headed to dinner at one of the many restaurants. Of course they are family friendly and the food was delish!
We ate early because we of course had to get to the arcade! You get a credit on your cards at check in so we had money to play without having to add. There were so many games/rides to keep them busy. We even noticed the ropes course and rock wall and of course we forgot sneakers for my daughter so she wasn't allowed to try, lesson learned but looked really cool! Outside they had life size chess, fire pits and wooden climbing area and corn hole. It was a cool night so we bought a s'mores kit and made them at the fire pits. They had bingo going on in the kids area and after that karaoke for all ages so we enjoyed the kids room for a while.
In the morning there is a cafe to grab and go with breakfast foods or a buffet. We decided to grab some snacks and coffee and do a hike on one of the 6 hiking trails they had. We did about a 2 mile hike, very nicely color coded so we knew where to go. The kids played at the water park and arcade more after (water park opens at 11am) and then we got ready to leave. On the way home you pass Woodbury Common Outlets so of course we stopped there, they are great as well! All fun and "games" for a night away and was the perfect end to summer! We will definitely be back this fall/winter since they haven't stopped talking about it!