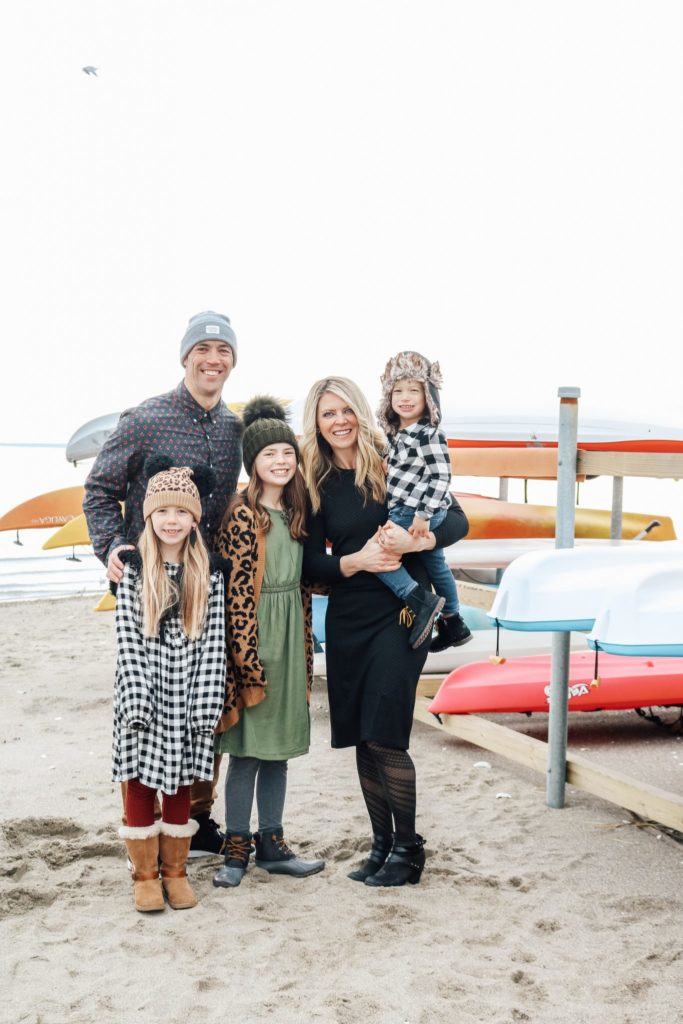 I interviewed my good friend of the past four years and probably the most famous person I know Brooke Christen at @nestingwithgrace.  We met at our crossfit gym right when she moved here and became quick friends when we learned we also lived down the street from each other. She's been a good friend, workout partner and even better mom friend. It also helps she knows a thing or two about blogging!
Where are you originally from and how long have you been in the area?
Born and raised in Salt Lake City Utah and been here since 2014
Children / Age(s)
Ella will be 11 in January Lola is 8 and Finn 2 and a half years old
One thing people would be surprised to know about you?
That she can deadlift 335lb. and is a beast in the gym which she doesn't show very often on Instagram
One thing you wish someone would have told you about motherhood?
Each child gets easier. I think I got too stressed early on and  took everything very seriously. Over time and after a few more I realized this!
Favorite local things to do in Fairfield?
We love bike riding all over town; dinner, the library and to see the beautiful houses in our area. We also love the beach anytime of year!
What's your favorite thing about raising a family in Fairfield?
I really like the schools. I love that Sherman is so active, and the involvement with the community and neighborhood.
Do you have a favorite family friendly restaurant?  Date night?
Family dinners out we love Colony Pizza and Mecha Noodle Bar for Date night and take out. When we have guests we go to Bodega and Lobster Craft. We actually cook and grill a ton too!
What is your go-to activity for your family?  For yourself?
We like any seasonal outdoor activity. We never had apple picking in Utah so its our favorite. We like taking dinner to the beach and looking for sea glass. We also love being close to NYC for day trips and taking guests when they visit. For myself I have to go to the gym and be active everyday. Its my only way to stay sane in this crazy busy life!
Best advice for moms who experience the inevitable MOM GUILT handling a career and a family?
It is so good for your kids to see you working hard and have a passion for something you love. It's hard to let yourself believe that in the beginning when going back to work but after time you will see.
Who has influenced you the most to be the mother that you are today?
My mom and sister for sure. Even more now because my mom is more empathetic then me so I am trying to be more like her. And then my sister is younger then me and is so loving and fun. It is just good to be with people like them. I love learning from other peoples good traits.
What advice would you share with a new mom or other moms?
Find a community of friends to help you get through the hard times. I've been using the app Marco Polo lately to connect with my friends and family far away. It's like we just hung out just by chatting through the app!
What is the most exciting part of your life right now?
The possibilities of growing your business for what you have time for. There are just so many opportunities out there, which I am so thankful for. We just have to seek them out. I just have to importantly remember to manage my time along with be home for my kids.

If you weren't doing what you are today, what do you think you would be doing?
I would be doing designs for clients. It is what I was doing when I first moved here and really enjoyed helping people.
If you had 24 hours to do whatever you wanted – what would you do?
I would probably spend the time going to antique markets, probably in NYC. Or maybe take a nap!
How did you end up where you are now in terms of your career?
I always wanted to have a blog and sharing my home. It helped when we moved here and we had some remodeling to do, so I just took a chance and started it! I have an achiever personality, which can be good and bad. I find my self-worth in achieving things, so finding a passion project was important.I believe everyone can love their home, no matter the size or location. I love to share my tips on how you can do that. Because creating a safe, loving home for your family is not in vain. It is worth it.
You can follow Brooke @nestingwithgrace. She has great style and shows you how much you can do in a smaller house like so many of us have around here!