May is Mental Health Awareness month–a time to raise awareness of and reduce the stigma surrounding behavioral health issues. Joy Hood is a mental health advocate who has turned her personal struggles into an evolving career aimed at removing barriers to care by bringing mental health resources to those in need that are high quality, accessible, and affordable. Joy works for Vita Health (along with a couple of other Fairfield moms!) which was established in CT (HQ in New Haven) and founded by a Psychiatrist from Yale University.
Where are you originally from and how long have you been in Fairfield?
I was born and raised in Garden City, Kansas and moved here to be a nanny 20+ years ago. And no, the Dorothy/Toto jokes never get old!
Tell us about your Family!
=Family of four here–my husband Phil went to high school in Fairfield after moving from Nebraska to Virginia to Fairfield. We have two children, Amelia (11) and Mason (8). We also have a 14 year old black lab named Vader who we lovingly refer to as the best worst dog in the world–he has such a personality and you wouldn't know he is 14 when you meet him.
One thing people would be surprised to know about you?
I went to school for and got my degree in Marine biology in a completely landlocked state! I did spend a summer session in Oregon getting hands-on experience and then spent over 10 years volunteering at Mystic Aquarium, most of which time was on the Marine Mammal and Sea Turtle Rescue and Rehabilitation team. I am still on the team as a first responder and am always waiting for a phone call or email to go out locally and check on a potentially stranded animal.
One thing you wish someone would have told you about motherhood?
Dinner. Every Day. I don't love to cook and trying to come up with dinner ideas for tiny humans for the rest of eternity wasn't on my radar!
What's your favorite thing about raising a family in Fairfield?
A: We live in the beach area so we are lucky to be able to walk or bike to the beach. We also love being able to ride into town for dinner and all the great events on Sherman Green. There is never a shortage of activities going on around town.
Best mom hack that makes your life easier?
A: Using "contributions" instead of "chores" with my family to get them to pitch in. The example I like to use is that no one pays me to make dinner but I contribute to the family with that task so they contribute in ways that are age and ability appropriate for them like helping set the table, putting their dishes in the dishwasher, taking care of the dog, etc.
Tell us about your business Vita Healthcare, and when & why you decided to start up this business?
I joined the Vita Health team a little over a year ago after spending the last 10+ years of my career consulting and focusing on behavioral healthcare for large companies and their employees. I have been passionate about mental health and have navigated the healthcare system for my own issues for most of my adult life, which wasn't easy even with an expertise in the area! My focus really shifted to youth and adolescents when my daughter who was 9 years old at the time experienced panic and anxiety at the end of 2020. Finding pediatric behavioral health providers was extremely difficult. The need I saw as a parent made it much more compelling for me to join Vita, a pediatric behavioral telehealth company. Vita is on a mission to deliver timely, quality mental health care to kids nationwide, believing that no youth is too ill and no problem is too small. With Vita, I am personally and professionally driving the mission forward.
Why is it important for kids to be introduced to Vita Healthcare?
A: Everywhere you turn, you will see statistics about the rising mental health crisis that was compounded by the pandemic and post-pandemic state of the world. Add in the effects of social media on our youth and the problem just gets bigger and bigger. Fortunately and unfortunately, the pandemic has shed a light on the huge need for mental health services and the stigma associated with seeking mental health treatment. Kids today have opened up and are helping to reduce the stigma. Vita was established to combat the youth mental health crisis, and aims to be there to support kids and families to get access to quality and timely care. It's ok to not be ok!
Our care model at Vita follows the child across the many touch points in the community so that they can best access support. We work with pediatricians, schools, community organizations, and camps across Connecticut. For example, we've had the great pleasure of partnering with Ellie Haney and Emma Kilbride (Fairfield natives!) of Here For You Clothing to amplify the conversation on youth mental health resources. Seeing the level of support and partnership in our community to help kids navigate mental health issues has been amazing.
Tell us about the different services that Vita Health offers:

Vita Health has licensed clinicians available for virtual appointments, including evening and weekend for general teletherapy covering a variety of conditions including anxiety, trauma, mood/depression, ADHD, OCD, and more. Vita also offers psychiatric care and suicide ideation interventions. All our services are available for 12-24 year olds and our suicide therapy is also available for adults. We are also building programs for parents. The Vita team are proud Huskies, expanding our services to help kids nationwide.
Best advice for moms who experience the inevitable MOM GUILT handling a career and raising a family?
Know your limits and be ok with saying 'no' when you know you are maxed out. I am not always great about following that advice and finding balance is something that I have to constantly work on. And try not to lose YOU in the day to day–be there for your family and career but remember to continue to put time and effort into doing the things that fill your own bucket. It took me longer than I care to admit, but now I make sure to take time to take care of me by going to Bar Method classes or taking tennis lessons, filling my bird feeders and sharing the excitement of seeing birds in our backyard with my family, going green by reducing plastic use within our home (yes, that brings me joy), being a Mombie, and brunching with my family and friends.
Who has most influenced you to be the mom that you are today?
There isn't an individual that I would say most influenced me as I was growing up; I had a village filled with support and advice along the way. My grandparents were a huge part of my childhood as well as the parents of many of my friends from elementary school through college. My village grew with the family I nannied for–the mom is still one of my best friends today. Then I was "adopted" by a wonderful family in Southport, who I lived with for many years, gaining a little brother and local support system as I made my way into marriage and motherhood. I am also fortunate to have an amazing mother in law, sister in laws, and my sister who also moved to CT from KS nearby in Trumbull. It truly does take a village!
What advice would you share with a new mom or other moms?
Ask for help, even if you suck at it like I do. Your family and friends are here to help, just push yourself to ask for it.
If you want to learn more about Vita Health, you can visit our website at www.vitahealth.care or call 844-866-8336. We accept most major insurance plans including these here in CT: Aetna, Anthem BCBS/Carelon (formerly Beacon Health), Cigna/Evernorth, CT Husky, Optum/United/Harvard Pilgrim/Emblem (including ConnectiCare mental health). Please note that Vita Health is not a crisis line. If you are someone you know is in crisis, please call 911 or the National Suicide Prevention Line at 988, or text the Crisis Text Line at 741741.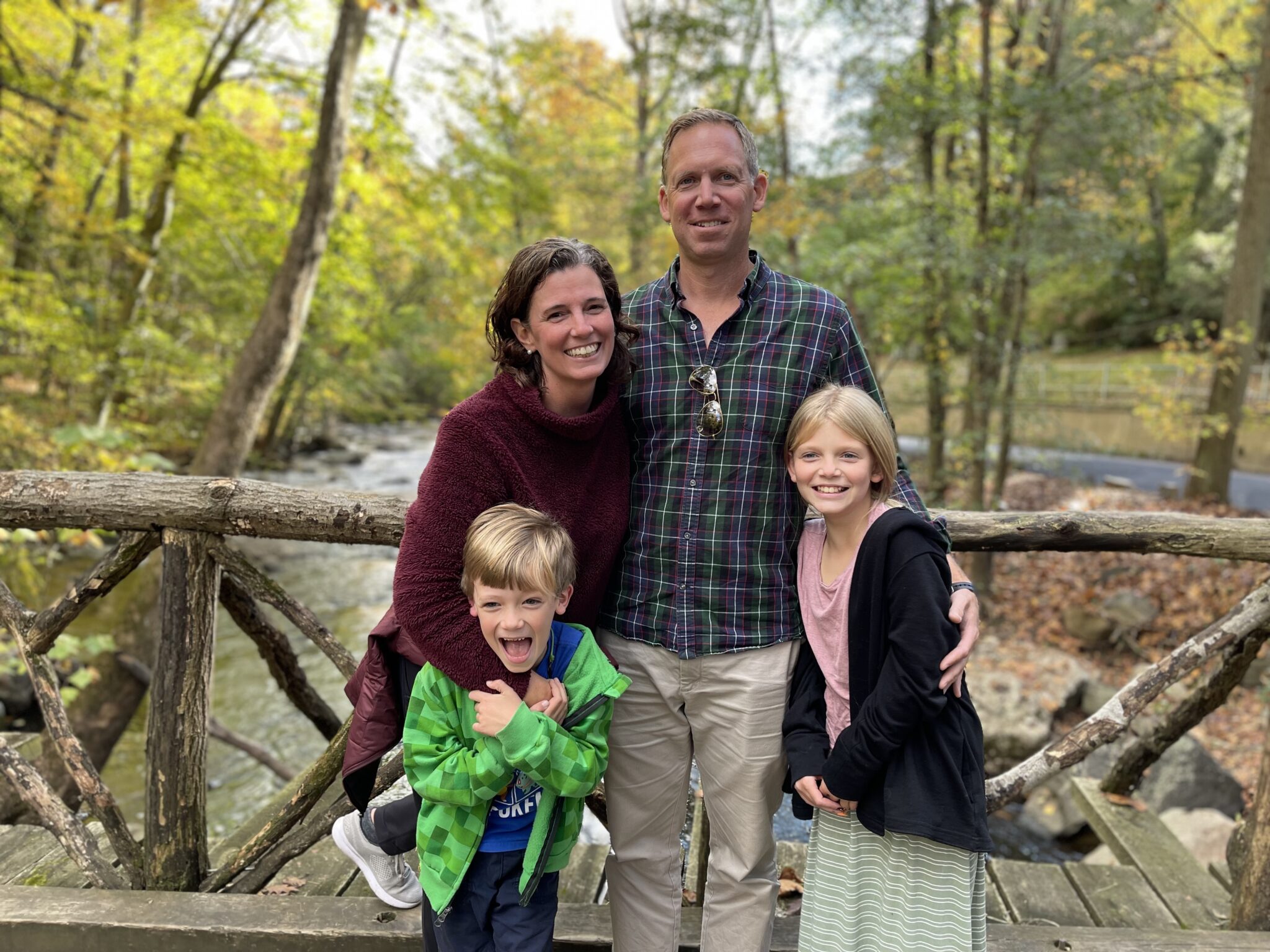 We love supporting local businesses – favorite places in Fairfield to…
Have Dinner with Family: Old Post Tavern, Little Pub, Flipside, Colony
Grab a Drink with Friends: Sinclair, Sophies, Bodega, SeaGrape (per Phil)
Have a Date Night: Aurora's by bike
Spend time together as a Family: hanging at the beach, going to concerts on the Green
Outside Activities: bird watching (#birdnerd), riding bikes, sailing on LI Sound (and always hoping to see some sort of sea life on the way), playing tennis
Grab coffee: Starbucks or Wake Cup Coffee