This delicious recipe is from local Compass realtor Andrea Viscuso. She sends fun recipes to her old and new clients throughout the year and they are always so tasty!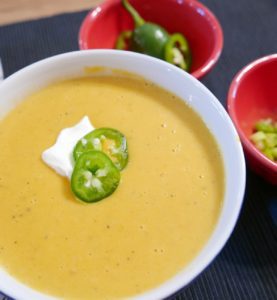 Ingredients
2 tbsp butter
1 onion, diced
2 teaspoons grated fresh ginger
1 jalapeno pepper, seeded and diced
1 medium butternut squash, peeled and cubed
1 can chicken broth
6 oz evaporated milk
1 can coconut milk
1 tbsp sugar
S & P to taste
 Recipe
Melt butter in a pan, sautée onion, ginger and jalapeño. Add butternut squash and broth, simmer covered until soft. Add in milks, sugar, S & P and cook a few minutes more. Use an immersion blender to puree ingredients into a soup or transfer soup to a blender and then another pot. This can be made in 45 minutes or less!

REALTOR ® & Principal of Forte Team at Compass
Compass Connecticut LLC
Office Mailing Address:
1 Sasco Hill Road
Fairfield, CT 06824
View my Zillow profile for past sales and testimonials HERE.
Follow me on Instagram HERE.
Top Agent Magazine Featured Agent, February 2021
Top Agents on Social Media by Property Spark, 2020 and 2021
Featured in Connecticut Magazine, At Home Magazine, The Wall Street Journal, Home Light and other outlets.