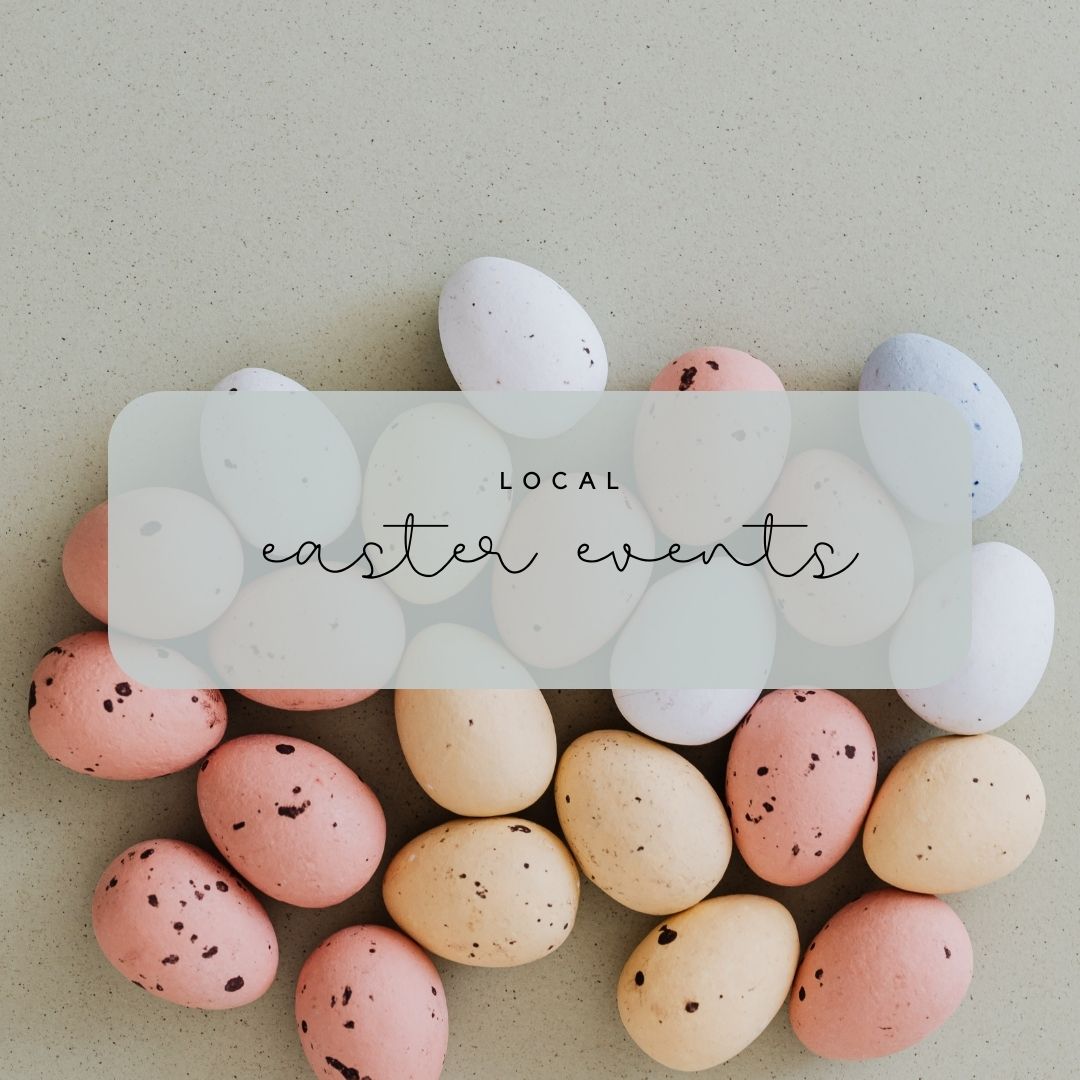 Easter baskets, bunny crafts, colorful eggs filled with candy…Easter is a little over two weeks away!!  So with that in mind, we've rounded up a full list of activities and where to go for Easter Egg Hunts for the kids, and where to see The Easter Bunny in person for some memorable photos!  HURRY though – some hunts are already sold out!
Egg Hunts
Easter Egg Hunt in the Trees @The Adventure Park and The Discovery Museum

April 8th – 10th and April 15th – 17th

Join us for our Easter Egg Hunt in the Trees! The Easter bunny will be hard at work hiding "eggs" for a scavenger hunt all weekend long. This isn't your typical Easter Egg Hunt. Each "egg" has a word… find all the words and win a prize! The Easter Egg Hunt in the Trees is free, but you'll need to purchase a ticket for climbing, as the "eggs" will be hidden up high!
Glow in the Dark Painting & Egg Hunt Challenge @Stamford Museum & Nature Center

April 8th at 7:45pm
Join us for an evening egg hunt in our woods! We'll first do some glow-in-the-dark painting on a canvas, and then hunt on our trails after hours for glow-in-the-dark eggs. Limited enrollment of 15 children. One free adult per child. Pre-registration only. Meets at Overbrook Nature Center.
The Great Egg Hunt & Spring Celebration @New Canaan Nature Center

Thursday April 7th – Sunday April 9th
Perfect for children, ages 2-10, our egg hunts are designed for smaller groups (approximately 25 per hunt). In addition to the hunt, enjoy an animal meet & greet and self-guided spring scavenger hunt. Just BYOB (bring your own basket) for collecting eggs (which contain nature-themed prizes and nut-free sweets).
Registration is required (some hunts SOLD OUT)!  Members $10 / Non Members $15
EGGstravaganza @Wakeman Town Farm (Westport)

Saturday, April 9th
Bring your whole family (and your egg-hunting baskets!) to Wakeman Town Farm and join in the fun. Egg hunts for ages 0-4 and 5+ will kick off the morning, followed by egg-themed games, storytime readings and photos with Big Bunny. Visit the Farm's real animals too. Yummy treats for the kids and coffee for the big "kids" provided by The Porch. Special thanks to our community sponsors Danna Rogers and Jen Kass Team at the Higgins Group.
**As of 4/5 currently SOLD OUT!
Easter Eggstravaganza @Milford Downtown

Saturday, April 9th | 10am – 3pm

Time-slots for photos with the Easter Bunny are now available! Grab them here before they're gone –

https://bit.ly/3JTH8xd

Join us for story-time, face-painting, crafts, an Easter Egg Trail through Participating Businesses & more!

*While our photos with the Easter Bunny required an advanced registration, the rest of our family-friendly event is entirely FREE!
Easter Egg Hunt & Pony Rides @Brushy Hill Farm (Southbury)

Saturday April 9th – 10th
Please join us for our second annual Easter Egg Hunt and Pony Rides! We have 10,000 eggs ready to go!! There is so much to do here at Brushy Hill Farm, grab your family and come visit us!
Pony rides, Easter Egg hunt, $20 Amazing Raffles, $2 Games, $5 glitter tattoos, all the pictures you can take and we can't forget about the Mr. Rooster chase! We will be raffling off a week of camp, a birthday party and a package of lessons, and so much more! Payment is due upon entry. We recommend purchasing prepaid tickets, as time slots do fill up quickly. However, we will be selling tickets at the door, should spots still be available. At the door tickets are $35 per child and we only accept Cash or Check. Only those participating in the egg hunt and pony ride need a ticket.
Easter Egg Hunt @First Presbyterian Church of Fairfield

Saturday April 9th | 12pm 2pm
The First Presbyterian Church of Fairfield's 2nd Annual Easter Egg Hunt is a free event that will be located outdoors on the lawn surrounding the church. The event is open to children ages 1 – 10. All children will receive goodies and will have an opportunity to participate in a short, kid-friendly program. Participants must be accompanied by a parent or other adult. Remember to bring a basket or bag for egg collection. Rain Date is April 10th. Registration is required at www.firstpresby.net.
Prayers for Ukraine and Pysanky Easter Egg Decorating @Trinity Episcopal Church

Saturday April 9th | 2pm -5pm

According to Ukrainian legend, Pysanky Easter Eggs are largely responsible for the fate of the world! It is told that a chained monster releases evil into the world if his messengers report a dearth of eggs being made. However, if his messengers report that many are made, the monster's chains are tightened; Evil is abated, bringing peace, love and prosperity into the world!  As the war in Ukraine rages on, Invite Welcome Connect of Trinity Church invites you to an afternoon of egg decorating and thoughtful prayer for our brothers and sisters suffering in Ukraine. Sharon Leonard, whose Ukrainian grandmother taught her the art, will lead the workshop providing a history of the craft. Harry Schmitz of Trinity Spiritual Center will guide participants in a brief prayer vigil at Trinity Parish Hall.

Blown eggs and supplies will be provided for the cost of $25 per person. Register Now (Ages 8 +)
FairfieldMoms Easter Egg Hunt @Silverman's Farm (Easton)

Friday, April 15th | 10am – 1pm
Ages 2 – 10yrs old.  Must RSVP prior to event. Max of 50 per time slot & one parent per family during the egg hunt. We have moved the egg hunt to a BIGGER field at Silverman's! BYOB (bring your own BASKET) and wear BOOTS (it gets muddy).
 We will have Food Trucks, face painting, local vendors and much more! Cost is $10 per family. We will be hosting 4 egg hunts – please RSVP (per family) for ONE time slot only.
**As of 4/5 this event is SOLD OUT!!
Egg Hunt @Connecticut Audubon Society

Saturday, April 16th
This favorite spring tradition includes fun-filled family activities, socially distanced visits with a special bunny, snacks and a spring craft. Don't forget to bring your camera and a basket!
**As of 4/5 this event is SOLD OUT!!
Annual Easter Egg Hunt @Calf Pasture Beach (Norwalk)

Saturday, April 16th | 10am – 11:30am
Easter Egg Roll @Pequot Library (Southport)

Saturday, April 16th – 10am
Join us for some traditional holiday fun at the annual Easter Egg Roll on Pequot Library's Great Lawn!  Dance the bunny hop, make crafts, play games, and meet the Easter Bunny himself! Bring your own hard-boiled eggs for decorating, and then choose your favorite egg to enter in the age-category races. Please bring a long-handled wooden spoon for the roll. This event is weather-permitting and open to all ages. Consult this site for updates. Free and open to the public.
**Some local Churches also have Easter Egg Hunts after Church Service on Sunday, April 17th.  Reach out to your Church for more information if available.
Meet The Easter Bunny
Bunny Breakfast & Lunch Trail @Essex Steam Train

April 9th – 10th and April 15th – 16th
Train Excursion – Hippity Hop for Bunny Breakfast aboard our vintage Pullman dining cars, pulled by our antique diesel locomotive. Families will delight in a spring train ride through the beautiful Connecticut River Valley as they enjoy a family style platter of breakfast items suitable for all ages. Kids receive their honorary bunny ears as they board. Get your tickets today…. it's going to be a hoppin' good time!
Tickets here!
Easter Bunny Express @Railroad Museum of New England 

April 9th – 10th, April 15th – 16th
10am and 12pm rides
There is no better way to celebrate the coming of spring than on the Naugatuck Railroad's Easter Bunny Express! Climb aboard for a 1 hour and 20 minute train ride through the beautiful Litchfield Hills as they reawaken after a cold, long winter's nap. Passengers on these trains enjoy a scavenger hunt for the kids as well as a stop at the Bunny Patch where children will have the chance to help rescue the Easter Bunny's duck friends! All children will have the opportunity to meet the Easter Bunny himself, as well as receive a chocolate filled egg from his very own collection.
Breakfast with the Easter Bunny @Stew Leonard's (Norwalk)

April 10th | 9am – 12pm
Join the team at Stew Leonard's for a special Breakfast with the Easter Bunny on Sunday, April 10, hosted by the Easter Bunny! Stew Leonard's chefs will offer a buffet-style selection of your favorite breakfast treats. Each child will receive Easter craft and can take a photo with the Easter Bunny. Tickets are available via Stew's Leonard's online events calendar starting on March 11, 2022. Attendees age 12 and older will be charged $22 each and children age 2- 11 will be charged $18/each *Taxes not included* . Children below the age of 2 can attend the event free of charge.
Easter Character Brunch @Penfield Pavilions

April 10th | 10am and 1pm
Tickets include: Breakfast station, Dessert station, Drink station, Meet&greet with characters, Easter activity & treat for the kids and a Raffle ticket
Meet the Easter Bunny @Bass Pro Shops

Saturday, April 9 11 a.m.- 6 p.m.

Sunday, April 10 11 a.m. – 4 p.m.

Thursday, April 14 4 p.m. – 8 p.m.

Friday, April 15 11 a.m. – 6 p.m.

Saturday, April 16 11 a.m. – 6 p.m.

Easter Sunday, April 17 11 a.m. – 3 p.m
Easter Egg-stravaganza @Earth Animal (Westport)

Saturday, April 16th | 11am – 3pm

On Saturday, April 16th from 11-3 p.m. the Easter Bunny will be hopping into Earth Animal! Stop by Easter weekend to take pictures with the Easter Bunny and choose an egg from the Bunny's basket to win a prize! Prizes will vary from bags of Wisdom™ Dog Food, our Herbed Chicken Tenders, our famous No-Hide® Chews, $10-$100 gift cards, and a few other egg-celent surprises!  Bring the whole family down (even the furry ones!) and take a picture that will last a lifetime. *One egg per customer; while supplies last.
Easter Parties & Crafts
Walk-In Easter Bunny Workshop @AR Workshop (Fairfield)

Sunday April 10th | 11am – 1pm
Come in Sunday April 10th from 11am-1pm and make the cutest wooden Easter Bunny's! No stencils needed! Paint, design and add a tail!  Register to ensure you are getting one. Limited amount while supplies last!  $20 a bunny. Perfect event for families!
Easter Event @Giggling Pig (Shelton)

April 16th | 11:30am – 1pm
Join us for a fun morning painting this adorable bunny and a special Easter surprise.  $30 per canvas.  Pizza will be served!
If you know of any other Easter related events going on that you would like us to add to our calendar of events, please reach out to us at [email protected]