You might know Kathleen as a teacher at Mill Hill, or a co-owner of Triple Double; a youth development basketball program.  I met her parents at Brick Walk Tavern when we were both there eating dinner at the bar and they just raved about her daughter, so I had to reach out to her immediately! Thank you Kathleen for being so open and honest and hopefully helpful to women out there! Want to read more check out below. Want to reach out to her DM @kathleensararegula.
Where are you originally from and how long have you been in Fairfield?
I am a true Fairfield lifer, born and raised. Believe it or not, my husband Matt is as well. I am a third grade teacher at Mill Hill Elementary School in town and consider getting to inspire life long learners a true passion. I am also very proud to say I am a partner in an empowering youth basketball program called Triple Double.
In Fairfield, my family's roots run deep.  I am fortunate to live within a five-minute radius of my parents and other amazing family members and life-long friends. My maiden name is McGillicuddy, and now that I have added  Regula to my narrative, it seems I can't go anywhere in town with someone sparking up a conversation. It's special for sure!
Tell us about your Family!
I am beyond proud to reside in this remarkable town today where we are raising our beautiful and ever so spunky family of my stepdaughter Madison (20) and daughters Riley (9) and Peyton (7). This girl squad is always keeping us on our toes: to say they are strong-willed and passionate is an understatement! Needless to say, my husband (we recently celebrated our 10-year wedding anniversary) is outnumbered. Can you say #girlpower!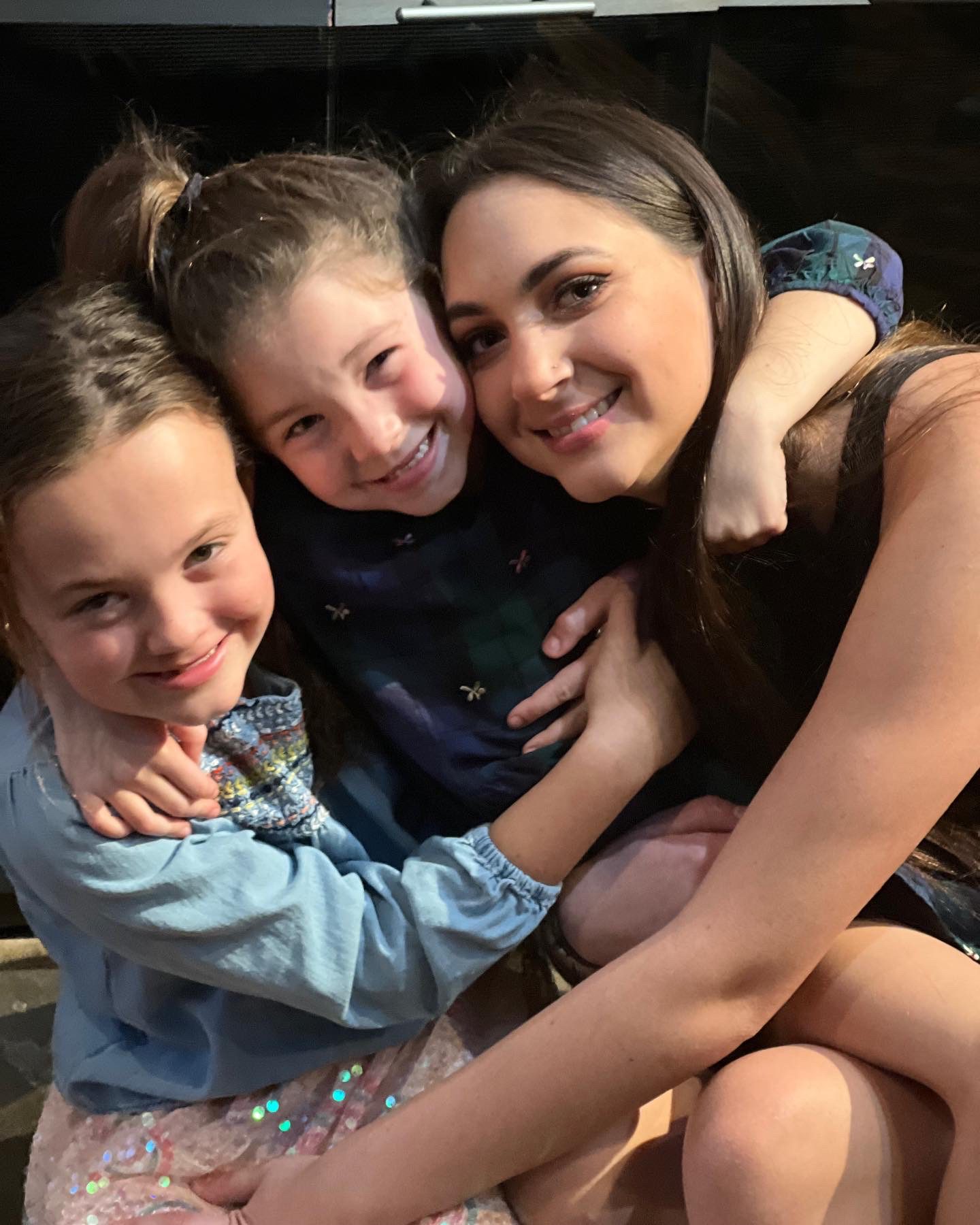 One thing people would be surprised to know about you?
I am a mama to two amazingly strong daughters who were both born extremely premature at 30 weeks (to the day!) and I lived at Yale New Haven Hospital on bed rest for 10 weeks with our youngest daughter Peyton while Matt held down the fort at home. Being a preemie mama hasn't always been easy, but it is a true gift. I love connecting with other preemie moms and am proud to say I have been able to mentor many women over the past 9 years and show them that there is always a silver lining no matter how dark things seem at times!
One thing you wish someone would have told you about motherhood?
Motherhood: there is truly nothing like it! I wish someone had told me how imperfectly imperfect the journey of motherhood was going to be. Motherhood truly is what you make of it! The complexity, the highs, the lows, the uncertainty. I remember thinking there was a textbook answer on how to be a "good parent," or "an outstanding mother," but it didn't take me long to realize there really isn't, and wouldn't life be boring if there was.
What's your favorite thing about raising a family in Fairfield?
Raising a family in Fairfield is a true gift. If I were to pick one thing I value most about raising our family here, it is the community. As Helen Keller once said, "Alone we can do so little; together we can do so much." Raising our family in a place in which you feel an immense sense of community is beyond empowering. The opportunity to be involved, to help the greater good, to give back, to empower others and to enjoy one another's similarities while embracing our differences is something that radiates through this town. The beauty of the community in this town has allowed me to be the best version of myself: Not only a mother, a wife, an educator, a coach, a friend, a daughter, but a determined and kind human being. Community has allowed me to follow my dreams and my passions and to show our daughters and other members of this community that they can do whatever it is they desire, as long as you find your people and have built your community with a strong foundation, you are set! Community is key. 
Best mom hack that makes your life easier?
Oh… mom hacks, so many of you mamas out there are so creative and have the best mom hacks. I wouldn't say this is my claim to fame, but I do think being extremely organized is my mantra! I may lose my keys on the daily, but our family calendar is color coded, everything in my house is labeled and every sports bag has a special designated place. Organization limits the chaos (yes, limits not eliminates…we're talking mom life, right?).
Tell us about your business, and when & why you decided to create this business!
Ahhh…. Triple Double! I choke up and get the chills every time I talk about this amazing and life-changing program. Triple Double is a youth development basketball program in Fairfield, CT. What makes our program different than any others is our mission to help children succeed on AND off the court. It's a program that's founded on so much more than basketball (but what sport is better than basketball?!) Being a part of Triple Double is being part of a family – a true community.
We know that you started Triple Double.  Tell us more!
Believe it or not, I did not start this program. My partner, Tom Keyes, was the visionary. He saw a need for a youth program in this town, larger than just teaching young children the skills they need to be strong basketball players. The year before the boys program at Triple Double hit the ground running, I had Tom's oldest son Trip in my third grade class.  We got to know each other and as educators, coaches, parents, former athletes, and, most importantly, as two people who saw the need for a program that valued empowering children to be dedicated athletes as well as outstanding human beings.
As a girl mom, I started to become more aware of the lack of opportunity young female athletes have in our community, in this county and in our country to be a part of something bigger than a single sport. I started to truly see that there were minimal opportunities for young females, including my own daughters, to be empowered, to believe in themselves, to do something that felt hard and that they thought they could never do, to be on a a team, to learn how to be a a good sport, to be tough, and to step onto a court and say "I can and I will because I am me."
So, with the boys program already up and running I took the leap with the support of my amazing husband Matt. I picked up the phone, called Tom and said "LETS GO!" And so the girls program at Triple Double began (Quick shout out to the rocks of both Tom and my family, Kristin and Matt thank you for believing in us!)
There is something important that I want all women, especially mothers, to hear, especially those who are afraid to take the leap, who are exhausted, who are unsure or who make all the excuses to not follow their passion. I want you to know that I said "No way" at first about starting the girls program at Triple Double. 
I made all of the excuses. 
I didn't have the time. 
It was too much, 
I said "No." Can you believe that? 
The truth is, you do have the time. 
You do have the energy. 
You have the ability to do hard things. 
I allowed fear and self doubt to stop me at first until I made a stand, a stand to empower others and to make a difference. To show our daughters their mother was going to follow her passion, to work hard and to enjoy every second of this opportunity. 
NEVER, in a million years did I expect our program to take off the way it did. Every session doubled then tripled. We expanded. We grew. When I say "We," I mean every young athlete that showed up and that put the work in. I'm just as proud watching girls make their first basket as I am to hear them yell in unison at the end of every session or every game, "Girls rule!" "I CAN!" and "Triple Double rocks!" 
Our Triple Double girls program has continued to flourish. We are so proud to have players and coaches from all over, and we are expanding our community and bringing people from other towns together. I speak for Tom and I both when I say how absolutely thankful we are for the support and dedication all our Triple Double families and players have given to our program.  
I also think it's important to note that success in any form does not happen overnight, and I am a true believer that we have been so successful because we lean on one another and embrace Helen Keller's quote from above: It truly does take a village.
What age does triple double start, is it practice and games, is there a travel team, is it co-ed?
We are a co-ed program that offers developmental clinics/ programs/leagues for children ranging from Pre-K to 8th grade during the off season and PreK to 3rd grade during basketball season. We also have fourth-grade travel teams, both boys and girls won the holiday tournament championship this year. Our Pre-K program we launched in the spring, and it has been a true success! The pure joy we see our players experience is contagious on any Triple Double court. 
What should we look to see from Triple Double in the future?
There is a lot happening at Triple Double! We are improving our facility while continuing to expand our program in a variety of ways!! Don't forget to keep your eyes out for our Triple Double swag that is all over town! As the weather starts to change, see how many blue Triple Double Basketball sweatshirts you can come across in one day (once our family counted 12!).
Tell us about your background:
As I mentioned before, my background isn't as exciting as some, but I wouldn't change it. I have been a Fairfield girl all my life. 
In fact, I played basketball at Sacred Heart University (until I had 2 knee surgeries) where I received my bachelors in finance and economics. During my sophomore year at Sacred Heart, I volunteered my time at a local elementary school in Bridgeport, CT and absolutely fell in love with the world of education and decided to change my career path. My parents encouraged me to finish my undergrad as a double major, and so I doubled up my class load and finished with a double major in three years and started on my Master's degree in education. I did my student teaching in Monroe, CT and got hired out of graduate school at Mill Hill Elementary School, where I currently teach. Mill Hill is the best!
What is your most memorable moment in this industry?
As an elementary school teacher and a partner at Triple Double, I am fortunate to say that it is hard to pinpoint just one single moment that has been the most memorable. I  consistently reap the benefits of getting to see children achieve their goals, overcome fears, and express genuine excitement toward learning and the game of basketball. 
Honestly, the most memorable moments for me are the little things that happen on a daily basis at Triple Double. Whether it's a player making their first basket or seeing a player who gave it their all and lost to an opponent go up to that person after and say, "good game," I get the chills every time. 
Best advice for moms who experience the inevitable MOM GUILT handling a career and raising a family?
I don't think you can ever truly get "rid" of the mom guilt we have as working mothers, so my advice is to take things in stride and do your best to enjoy the moment. 
Someone once told me balance is bogus, and I have to say I think this advice is on point. I used to think if I had a work/ life/ family balance things would all "be good." But instead, I now try my best to be present and prioritize the things that are most important to me. When I am  feeling mom guilt, as all working mothers do, I try to change my mindset and look at how much my children are benefitting from me working: I am setting an example for my daughters and take pride in knowing that if all else fails (as many things do), my girls know what a hard-working woman looks like!
Who has most influenced you to be the mom that you are today?
Without question, the person who influenced me to be the mom I am today is my the world's strongest and most admirable woman herself: My mother.
Not only is my mother the most empathetic, understanding, and caring person, she changes the energy in any room she enters. From the very start, she has always set an example of what it means to work hard and make being a working mom look seamless. Her laugh is contagious, and regardless of the situation, she always finds a way to see the positive and keep moving forward. Mom, thank you for showing me what it looks like to have it all and for giving me the love, strength and wisdom I've needed over the years to be my best self. 
What advice would you share with a new mom or other moms?
To all of our new moms out there or any mom out there that feels they need to get their groove back, make sure you make a weekly date night with your spouse a top priority. I think this has been the most important thing for our marriage and our family. Seeing your parents make time for one another and putting the work in not only benefits you as a couple but strengthens the foundation of your family. Whether it is a dinner date, meeting at a park for lunch or going on a walk, make your relationship a priority! 
You recently went through a procedure I think women should know about. If comfortable can you tell us about it and why you did it?
This past March, I had a double mastectomy and am currently recovering from a follow up surgery I had at the end of June! It was by far one of the best decisions I have ever made and have been sharing my journey with others in order to promote awareness and be a support for those in need.
Although it was the easiest decision to make, post double mastectomy life has had its challenges, both physically and mentally. My mother is a breast cancer survivor; she was watched closely every couple of months for years until she was finally diagnosed with breast cancer a few years ago. My mother, my role model, was a total champ throughout the double mastectomy: Her strength and overall experience made my decision an easy one. Months after being diagnosed with breast cancer and undergoing a double mastectomy, my mom had genetic testing done and found out she had the Chek2 gene (this gene is worth learning about)!
As a result of my mom's diagnosis as well as having very dense breasts, I started having mammograms and ultrasounds at an early age. This past fall I started having complications with my right arm function and started undergoing more mammograms, ultrasounds, and MRI's. During this challenging time of uncertainty, I received a call from my OBGYN to let me know I also was positive for the Chek2 gene. Within seconds of getting off the phone, I called my husband and without hesitation said, "I am not getting a biopsy, I am getting a double mastectomy," and the rest is history!!! 
From this experience, I have learned more than I could have ever hoped for. I thought I was strong before; I now know how truly strong I am, in every sense of the word. 
I want all women out there to listen to their bodies and do what they feel is right for them.  To anyone reading this, know I am always a resource, an ear to listen, and a shoulder to cry on (literally, lots of tears have been shed over here). And.. not to worry: I was back on the court a month post-op and a week after my second surgery. Although I am not as nimble as I once was, I will get back there, one day and one lap around the basketball court at a time.
Have Dinner with Family: Colony Pizza
Grab a Drink with Friends: Sinclair 
Have a Date Night: Little Goose 
Spend time together as a family: By our pool 
Outside Activities: Swimming, yard games, and or beaching it!
Grab Coffee: Donut Inn (hands down!).. If you go keep an eye out for my husband, he's a Donut Inn staple