Meet a Dad week 2 is one of Fairfield's finest Sergeant Evan Kaesmann. Sgt. Kaesmann has been with the Fairfield Police Department for 14 years and recently retired his K9 partner Maverick. Father of 5 and a half year old Lucas who inspires to be a Policeman and thinks its the coolest job around. Being so busy with the police department and missing holidays he makes his own traditions for holidays and like most cops is a big fan of Donut Inn. Evan is also a big part of the behind the scenes of most Fairfield Moms events! Read more about Evan below! And thank you Sgt. Kaesmann for all you do for Fairfield!
Where are you originally from and how long have you been in the area?
I grew up in Trumbull and currently live in Monroe so I've spent my entire life in the area.
Tell us about your Family!
I have a 5 ½ year old son named Lucas, my retired Police dog Maverick, and am engaged to my fiancé, Abby, who is a nurse.
One thing people would be surprised to know about you?
When I graduated high school and started college I originally wanted to be a teacher, specifically a high school history teacher
One thing you wish someone would have told you about fatherhood?
No matter what happens, being a dad is the best job in the world.
What's your favorite thing about raising a family?
Having a little best friend who wants to do all of the same things that you do. Lucas thinks that being a Police Officer is the coolest thing and said he wants to work in Fairfield with me when he gets older.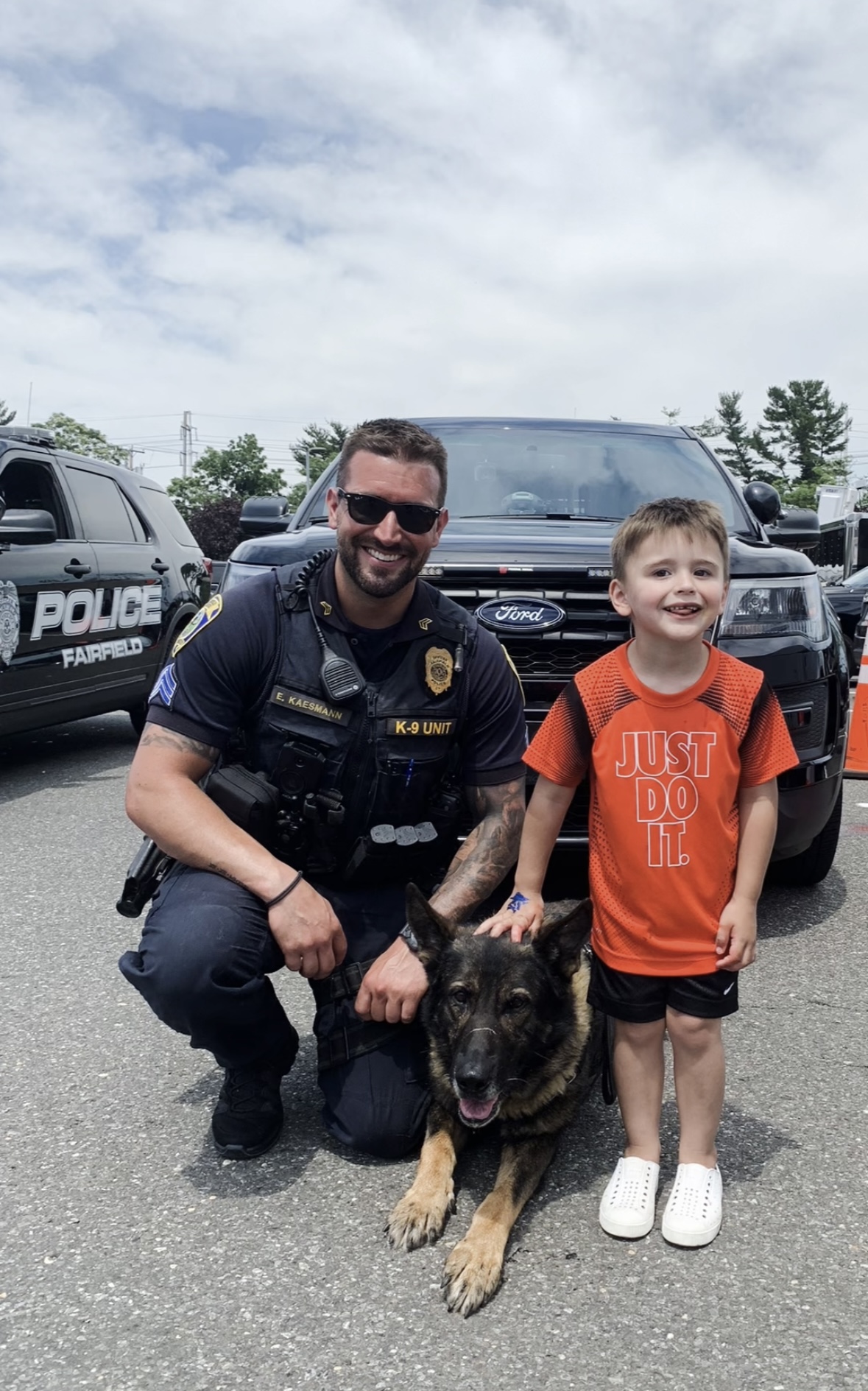 Best dad hack that makes your life easier?
Pretend like chores are fun or a game and then you're more likely to get help from the kids!
Tell us about your job, when & why you decided to start in this field? 
I've been a Police Officer in Fairfield for almost 14 years and am currently a Sergeant in our Special Services Division. I'm a former K9 handler and my K9 partner, Maverick, just retired this past April. In addition to my day to day responsibilities, I'm a certified Crash Reconstructionist, Firearms Instructor, Taser Instructor, K9 Unit Supervisor, and Team Leader for our Emergency Services Unit, which is our SWAT team. Being a Police Officer wasn't something I always wanted to do but the idea of meeting new people everyday and the excitement of not knowing what your day was going be like grew my interest in the job and when I started looking into it more, I thought it was something I could be good at.
What do you love about your job?  Challenges you face?
I love the fact that you get to see and experience tons of things that most people never will and that everyday is different. The challenges would probably the negative perception of Police Officers that some people have and at times the schedule can be difficult on your personal life.
If you weren't working in this industry, what do you think you would be doing today?
Probably something outdoors. I love being outside and doing yard work of any kind.
Best advice for dads who experience the inevitable guilt handling a career and helping support a family?
Start to develop your own traditions. With my job, I tend to miss a lot of holidays, birthdays, and other family events, but we try our best to make it work. For example, if I'm working on Thanksgiving we'll still have a full dinner with family, but it might be a day or two before or after. Also, I'm on call for some of my assignments so there are times where I might have to leave abruptly but I'm fortunate to have a family who's understanding of that.
Who has most influenced you to be the father that you are today?
I would say my mom actually. Growing up she did a lot to fill the role of both a mom and a dad.
What advice would you share with a new dad or other dads?
You won't realize how important another person could be to you until you meet your children for the first time when they're born.
We love supporting local businesses – and we know cops eat all over Fairfield…
Best Coffee: Doughnut Inn
Best Sandwich: A&S chicken cutlet supreme
Best Donuts: Doughnut Inn