Fairfield Dermatology newest addition is Dr. Yesul Kim—I am a board-certified dermatologist and fellowship-trained Mohs surgeon  to treat skin cancer which is the largest form of cancer here in the US. Mom to a son Emmett who is currently looking to settle down here in Fairfield!
 
Where are you originally from and how long have you been in Fairfield? 
A: I was born in South Korea, grew up in New York (Queens and Westchester County), and moved around a lot for my training – Providence, RI; Hershey, PA; NYC; and most recently Marlton, NJ. We just moved to the area two months ago and look forward to finally settling down!  
Tell us about your Family! 
A: We are currently a family of three. My husband, Dan (high school sweetheart!) works in finance/consulting. We have a two-year-old son, Emmett who absolutely loves to sing, dance, and is currently obsessed with dinosaurs. 
One thing people would be surprised to know about you? 
A: I can beatbox! During college, I sang soprano for the Brown'sTones, an all-female A Cappella group, where I learned to beatbox for fun. It always surprises people when I beatbox and has led to some memorable moments during med school and residency interviews!  
One thing you wish someone would have told you about motherhood? 
A: Don't overstress – be in the moment and ENJOY motherhood. And, give yourself a lot of grace!! I struggled with this when Emmett was born as I was trying to balance work, studying for boards, applying for fellowship, and being a first-time mom. Looking back now, everything worked out just fine and I wish I would've stressed less and enjoyed more. I still have to remind myself of this all the time.
What's your favorite thing about raising a family in Fairfield?
A:  Fairfield is AWESOME! We have been really enjoying the area, particularly: the close proximity to the beach, all the amazing restaurants, and various fun events for families (e.g., Sherman Town Green Summer Concert Series, Jazz Fridays at the Fairfield Museum). People here have been so kind and welcoming to us. We are so happy and blessed to be here! 
Best mom hack that makes your life easier? 
A: Not the most exciting hack, but my husband and I share an app, Cozi, that tracks our to-dos, calendars, and groceries to ensure we're always on the same page.
Tell us about your business, and when & why you decided to get into this business?

A: I decided to pursue Mohs surgery after completing my dermatology residency because I love that I can make a direct and meaningful impact by curing skin cancers. Additionally, Mohs surgery requires problem-solving, artistry, and precision, which I appreciate because I love working with my hands and being creative. I love dermatology in general since the skin, being so visible and exposed, often has a direct impact on people's well-being and confidence. I truly love my job! 
Why is it important to see a dermatologist? 
A: Skin cancer is the most common cancer in the United States. It can affect anyone – young or old. There have been many instances where a patient comes in for a rash or a different lesion, but as I do a more comprehensive skin exam, I find skin cancers, such as melanoma, in a totally different area. 
Tell us about the different services that you offer at Fairfield Derm?

A: Fairfield Dermatology has recently started to offer Mohs surgery to patients. Mohs surgery is a procedure that aims to remove all of the skin cancer but spare as much of the normal healthy skin around the skin cancer, allowing for the highest cure rate (up to 99%). It was developed by Frederic E Mohs, MD in the 1930s and has since been refined. Mohs surgery is different than excisions because Mohs involves excising with a smaller margin and the tissue is processed right away so that the surgeon can check 100% of the deep and peripheral margins.    
Fairfield Dermatology also offers a wide array of dermatology services, including general dermatology, pediatric dermatology, cosmetics (injectables, lasers, liposuction), aesthetician services and hair restoration. 
Best advice for moms who experience the inevitable MOM GUILT handling a career and raising a family? 
A:  I try to remind myself that my career is not just for my own individual accolade, but it is for the betterment for my family as a whole. The sacrifices we make now are investments that will yield long-term positive enrichments for our families!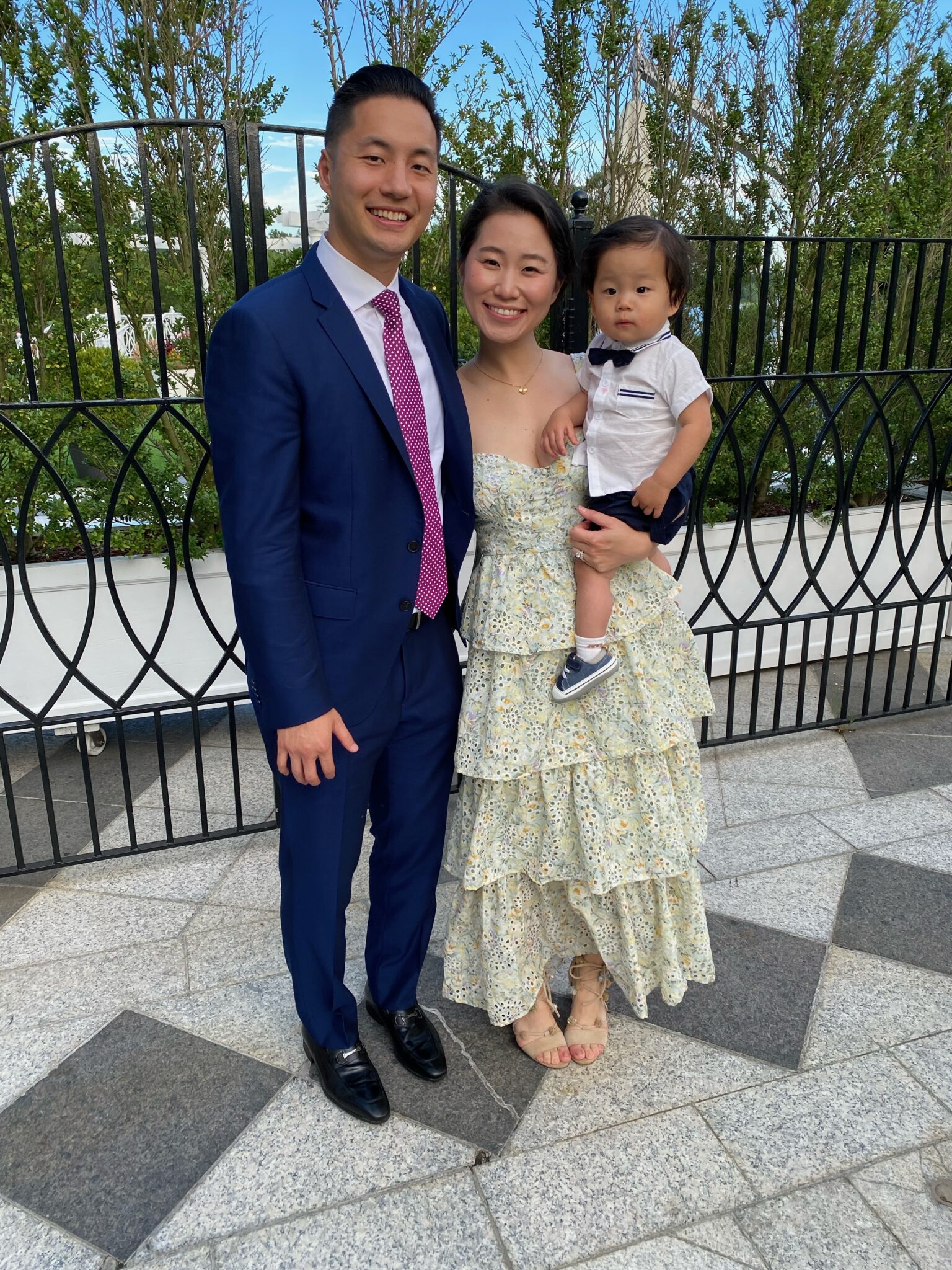 Who has most influenced you to be the mom that you are today? 
A: My mom and dad. Growing up witnessing my dad work tirelessly (working a full-time job and taking night classes to learn English) to forge a new life in a new country always resonated with me. A lot of who I am today, including my work-ethic and grit, comes from him. Simultaneously, my mom instilled a strong sense of compassion and helping others, as she does for her family, friends, and church community. I hope that I can pass along these traits to Emmett and our future children.
 
What advice would you share with a new mom or other moms?

A: Don't ever feel too proud, or ashamed, to ask for help!  
We love supporting local businesses – favorite places in Fairfield to… 
Have Dinner with Family: Esh (their freshly baked pita bread is AMAZING)  
Grab a Drink with Friends: Sinclair 
Spend time together as a Family: Sandcastle Playground 
Outside Activities: Grabbing ice cream from Saugatuck Sweets Fairfield and catching live music at Sherman Town Green 
Grab coffee: Shearwater (conveniently located just a few feet away from Fairfield Derm) 
Any other info or questions you want to add feel free the more the better so everyone understands you and the business. 
How to contact you 
Email: [email protected] 
And send up to 10 pictures and/or videos.