Welcome to our LOCAL Holiday Gift Guide!  Below you will find some great products and services that we are highlighting this Holiday Season!  Keep scrolling to read about all of these Fairfield businesses and their gift suggestions + Exclusive Fairfield Mom Discounts!  Don't miss out on all these amazing deals!  Happy Shopping, Moms!
Golf Lounge 18 is the home of virtual golf, and real fun. Conveniently located in the center of Fairfield, we are THE premier indoor golfing facility with the best golf simulators in the industry – Trackman.
Come over for a unique experience, and play on the most beautiful courses from all over the world.
Located at 85 Mill Plain Road, Fairfield
Highlights!
Give the gift of golf to golfers in your life.
Indoor golf on Trackman – the best golf analytics and simulation software in the market.
Play all year long in perfect weather.
Programs for kids – leagues, lessons by golf pros.
Great place to hang out with your friends + family or for private events + parties
We run Golf Leagues. Next league starting the week of January 14 (signup on our website for details)
PGA pros on staff for lessons.
Website: golflounge18.com
Facebook: facebook.com/golflounge18
Instagram: @golflounge18
Pure Barre is the original barre workout; blending Pilates, strength training and basic ballet like movements to upbeat motivating music. Pure Barre is the fastest, most effective total-body workout. You'll be guided through a series small, isometric movements that are low-impact but high intensity designed to strengthen and create long, lean physiques.
Located at 1275 Post Road, Fairfield
Promotions!
20% OFF any package or Retail Item – Use code FFMOMS – Expires 12/31/18
New Clients – Try your First Week Free!
Website: purebarre.com/ct-fairfield/
Facebook: facebook.com/purebarrefairfield/
Instagram: @purebarrefairfield
Sculpt Fairfield is an exclusive CoolSculpting & Botox Boutique.  Aimee Jaquez is the lead Physician Assistant and CoolSculpting expert, providing customized assessments for non-surgical fat reduction. Aimee is our main injector of Botox Cosmetics used to soften facial lines and wrinkles.
Located at 2000 Post Road, Suite 305, Fairfield
Website: sculptfairfield.com
Facebook: facebook.com/SculptFairfield
Instagram: @sculptfairfield
The Perfect Pair is an independent boutique in downtown Fairfield offering ladies' shoes and jewelry. Owned by local mom of two boys Carrie Bocian, The Perfect Pair stocks everything from stylish all-weather boots to fashion sneakers to everyday flats and special occasion heels. New for the holidays are the most comfortable slippers and sparkly heels you'll want to hang on the Christmas Tree!
Located at 14 Sanford Street, Fairfield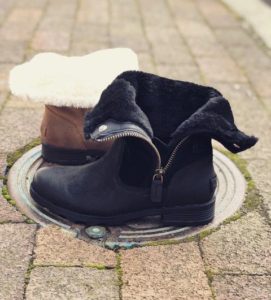 Website: theperfectpairct.com
Facebook: facebook.com/theperfectpairct
Instagram: @theperfectpairct
We have gifts for all the ladies on your list. Robes, PJs, loungewear, hats, gloves, socks, and of course bras, panties, shapewear, bridal, and hosiery. Plus we have sexy things too!
Located at 1215 Post Road, Fairfield
Promotions!

Just for Fairfield Moms we will extend the Shop and Stroll discount of 20% off any purchase over $100 in the store if you mention code: FAIRFIELDMOMS. The discount will be valid until 12/15/18.
Website: inthemoodintimates.com
Facebook: facebook.com/inthemoodintimates
Instagram: @inthemoodintimates
Apricot Lane is a one stop shop for the latest trends in clothing, accessories & gifts. Our unique selection changes daily to fit all your lifestyle needs. Let us help you find the perfect outfit and gifts for all your loved ones this Holiday Season!
Located at 1499 Post Road, Fairfield
Promotions!

Mention Fairfield Moms and you will receive a one time offer of 15% off your full price purchase. Expires 12/31/2018.
Website: apricotlaneboutique.com/store/fairfield
Facebook: facebook.com/ApricotLaneFairfield/
Instagram: @apricotlaneffld
Today, our jewelry store offers a talented and creative team, ready to help you find exactly what you are looking for. From fabulous gifts to perfect watches and beautiful jewelry, we are sure you will find something. Stop in today and let us help you find the perfect gift for someone special, or maybe even yourself!
If you need jewelry repair, we can help with that too! Our jewelry store offers a variety of repairs including ring resizing, clasp repairs, earring post repairs, pearl regluing, watch repairs, and more.
Located at 1591 Post Road, Fairfield
Promotions!
We are featuring our holiday coupon of $500 off of any $2500 purchase valid until 12/31/18.
Website: hcreidjewelers.com/
Facebook: facebook.com/hcreidjewelers/
Instagram: @hcreidjewelers
Vintage Garden is filled with wonderful holiday gifts for everyone on your list!  We have a hand picked selection of gifts that include holiday papergoods, candles, holiday ornaments and decor,  fun hats, gloves, scarves and slippers, personal accessories, blooming bulbs and plants, and the most beautiful fresh flowers for your holiday table!  We also offer complimentary gift wrapping for all your special gifts!
Located at 1189 Post Road, Fairfield
Website: vintagegardengifts.com/
Facebook: facebook.com/vintagegardengifts/
Instagram: @vintagegardenct